Pass the 2017 California PI
Private Investigator
license exam test
the first time!



818 883-6969


More people fail, than pass, the CA PI license test.

That is because the range of questions exceeds
the experience range of ALL applicants.

Some applicants can't even answer 50 questions of the 150 on their test-- and since there are 5 different tests they might get, much study is needed.

Want to find more than 1000 sample private investigator knowledge license test study practice questions? Just click here:: California PI test help
You'll find info about the 14-pound 'Power Package'!

You can call 818-883-6969 for a free information-packed talk about the 2017 investigative profession: from tips to speeding up your application process, through the REAL secrets about the PI license exam, to building a successful PI agency.

---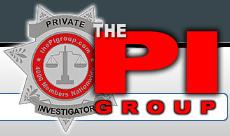 Learn about the powerful group of 4000 PIs:
Visit: www.thePIgroup.com